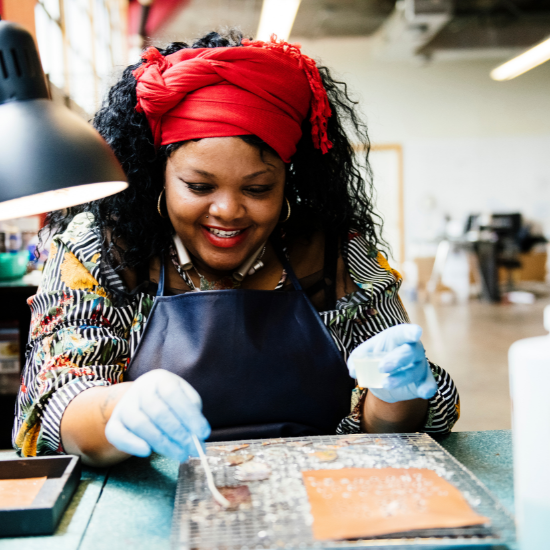 WHO WE ARE
At Rebel Nell, we exist to provide employment, equitable opportunity, and wraparound support for women with barriers to employment, this includes those who have been faced with homelessness, returning citizens, refugees seeking asylum and awaiting citizenship, LGBTQIA, women living with mental illnesses, and women with physical disabilities. The women we serve are employed as Creative Designers and educated in jewelry design, customer service, and many other transferable workforce skills.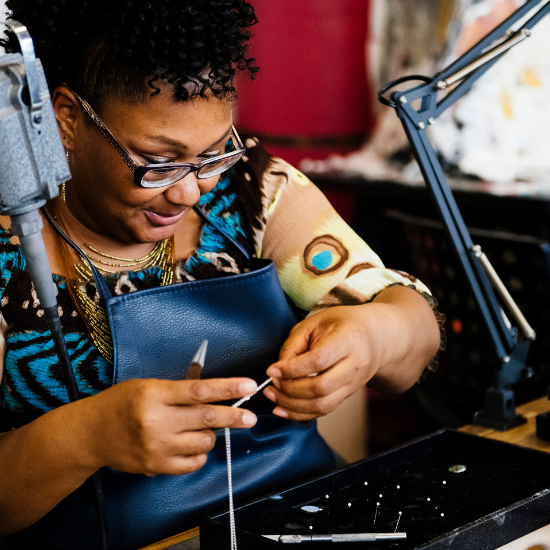 WORKFORCE DEVELOPMENT & WRAPAROUND SUPPORT
Through our workforce program, we partner with strategic partners to create individualized support programs including financial training, life wellness, legal aid, housing resources, career education, micro-loans, and other wrap-around programs. The result is a societal impact that allows women to graduate to a life of self-sufficiency and equitable opportunity.
As a social enterprise, we pride ourselves on being self-sufficient, meaning the work we do is completely funded by the sales of our jewelry - your purchase has a direct impact on the lives of the women we employ. YOU ARE MAKING AN IMPACT!
SHOP NOW
41
Creative Designers Employed
288
Lives Impacted
34,000+
Skill Development Hours
130,000+
Workforce Development Hours
$3,000
Increase in Monthly Household Income
36
Graduates Into the Traditional Workforce
97%
Percent of Team Members That Have Secured Stable Housing
$100,000+
Donated to Our Community Partners, Whose Work Supports Causes That Align With Our Mission.
T.E.A. 501c3
T.E.A. (Teach Empower Achieve) is a 501c3 workforce development organization that serves as a partner for people, primarily women, facing barriers to employment and aims to be a driver of equitable change. T.E.A. works in close collaboration with existing businesses to identify employment needs and job development solutions that support and provide resources for participants' pathways toward self-sufficiency.
Learn More
COTS
COTS creates opportunities for families to collaborate, thrive, and succeed in building strong and stable households, neighborhoods, and communities. Through partnerships, they are able to assist families in reaching their housing, economic, health, education, and career goals as they overcome homelessness and break the cycle of poverty for the next generation and beyond. COTS is creating opportunities to succeed.
Learn More
Rebel Nell is proud to have obtained certifications from two distinct organizations, SEWF and the Women's Business Enterprise National Council. These certifications validate our ongoing efforts to create impact while producing quality products.
The SEWF Certified Social Enterprise is an independent guarantee that we put the interests of people and the planet above shareholder gain.
We are verified as a Women's Business Enterprise (WBE) and Women-Owned Small Business (WOSB) through the Women's Business Enterprise National Council, the nation's largest third-party certifier of businesses owned and operated by women in the US.